The Bristol Renaissance Faire ("Bristol") is a Renaissance fair held in a Renaissance-themed park in the village of Bristol, Wisconsin. It recreates a visit of Queen Elizabeth I to the English port city of "Bristol" in the year 1574. The faire runs for the nine weekends from early July through Labor Day. Its close proximity to both Chicago and Milwaukee make it a well-attended event, seeing thousands of visitors yearly.
Seventh Sojourn is no stranger to the event and has shared the marketplace with unique crafters of apparel, decor, arms & armor, footwear, jewelery, and other  one-of-a-kind, often handmade products. Each year at Bristol Melissa and Bryan Penney (Seventh Sojourn owners) enjoy new, memorable experiences. In turn, Seventh Sojourn tries to make every year fresh and exciting for their friends and customers by adding new products, blends, shop decor, and fun/energetic staff. 
Here are 5 ways to have a delightful experience at Seventh Sojourn's Bristol shop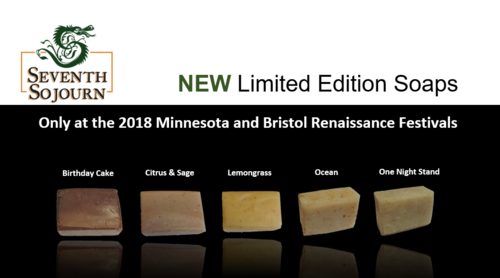 2) Mingle! We absolutely love interacting with the folks at Bristol and look forward to it every year, so please stop in and mingle. 
3) Stock up - Save on shipping costs and stock up while you are here! We bring with us many of large, heavy duty bags. The average 3 - 4 person household uses approximately 24 bars of our soap per year, in case you were curious. ;)
4) Free sniffs! Do you enjoy walking around bath product stores and smelling a host of wonderful fragrances? Well, you have come to the right place my friend. 
5) Talk shop - Every so often we are approached about a possible wholesale, event, wedding, or other unique needs for our product. Be sure to ask for Melissa or Bryan directly if you have a need such as this.
Melissa has consolidated some of the soap in the shop to create more room and an easier-to-peruse display! The shop looks wonderful and the weather is fantastic, we couldn't be happier! 
See you soon, Bristol!